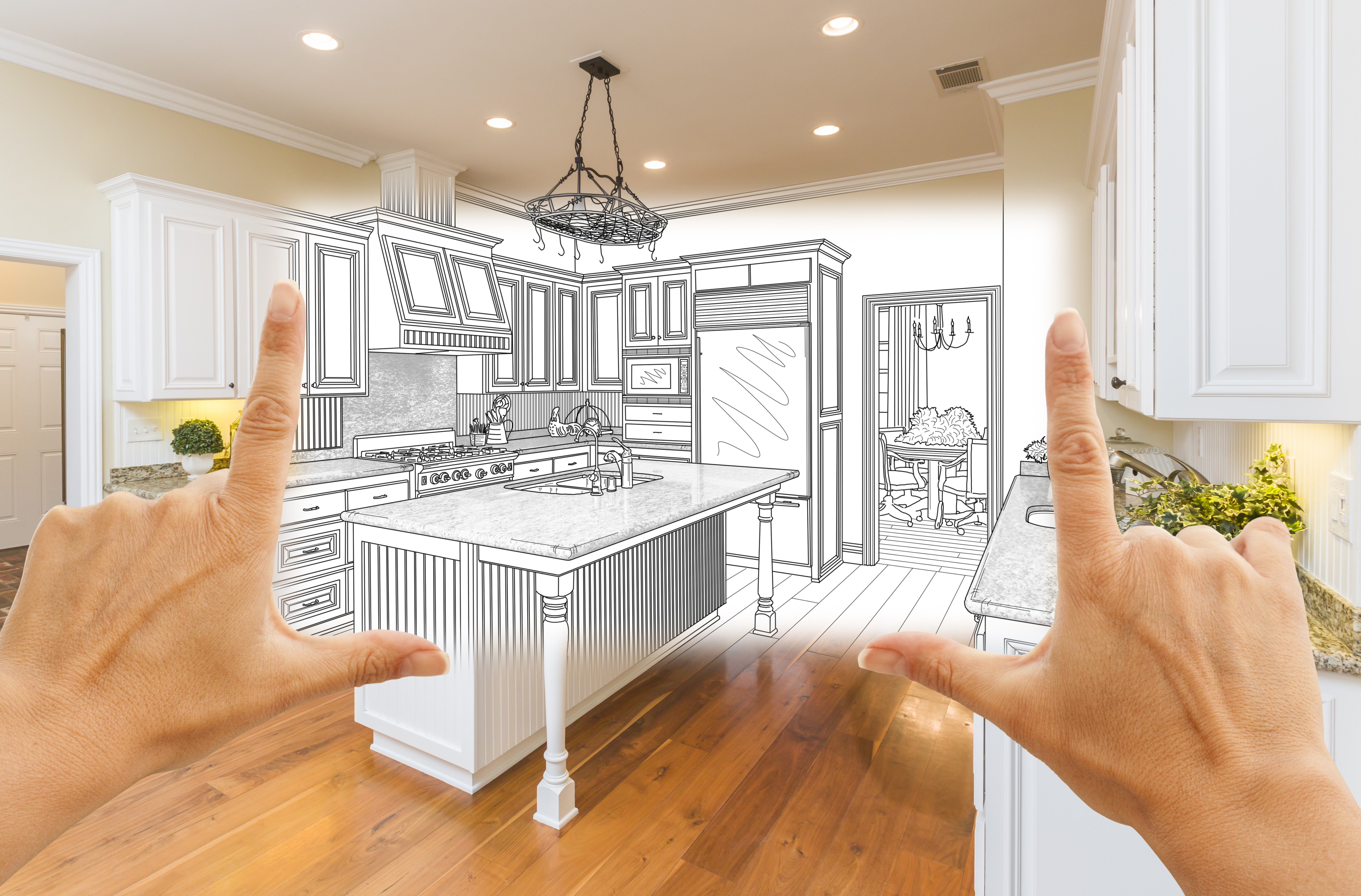 The decision to remodel a kitchen is a big one. Aside from the financial aspect, it is a disruption in a homeowners daily life, and depending on the extent of the remodel, can last weeks or even months. That's why, when discussing a kitchen remodel, it is important that homeowners are aware of all of the elements involved. But not just what they're putting into their remodel – what they're gaining from it. Kitchen remodels have the potential to drastically increase a home's resale value, and give the homeowner a great return on their investment.
Types of Kitchen Remodels
Kitchen remodels are usually split into two categories, according to Remodeling's Cost vs. Value Report; minor remodels and major remodels.
An article from Zillow goes more in-depth about defining the different remodeling categories. Minor remodels tend to incorporate many aspects of the existing kitchens, with changes being functional and aesthetic, but not excessive. For example, in a minor kitchen remodel you might replace countertops, cabinet boxes, paint colors, hardware, etc., but you won't be completely gutting the kitchen, moving walls or shifting layouts.
Major remodels are those that do incorporate significant changes, likely even a full overhaul to your kitchen. Moving walls, adding furniture such as built-in islands, shifting layouts and putting in new flooring are all different projects involved in a major kitchen remodel. Major remodels are generally seen as either "mid-range" or "upscale" remodels, and this further categorization will depend on the quality and finishes of the new equipment that is selected for the kitchen. Semi-custom or stock cabinets will fall into the category of "mid-range" remodels, while fully custom cabinetry will be considered "upscale". Some other examples of upscale remodel aspects are: high-end appliances, upgraded top-of-the-line lighting and high-quality granite or stone countertops.
How do I know the ROI of my Kitchen Remodel?
According to Remodeling's Cost vs. Value Report, here is how the following kitchen remodel projects break down:
MINOR KITCHEN REMODEL
Job Cost: $23,452
Resale Value: $18,206
Cost Recouped: 77.6%
MAJOR KITCHEN REMODEL – MIDRANGE
Job Cost: $68,490
Resale Value: $40,127
Cost Recouped: 58.6%
MAJOR KITCHEN REMODEL – UPSCALE
Job Cost: $135,547
Resale Value: $72,993
Cost Recouped: 53.9%
Is Remodeling My Kitchen Worth the Expense?
Determining whether or not to remodel a kitchen is a major decision, both from a financial aspect and a life change.
When deciding whether or not to remodel a kitchen, it's important to see it in the context of the rest of the house. Sure, new countertops would be great, but if the roof is leaking or the water heater needs replacing, it's better to take care of the basic needs first before moving on to remodeling. Buyers want to know that basic systems are working in the house first, as maintenance costs are a major consideration when buying a home.
It's also important to keep in mind the cost of the house in the context of the kitchen remodel. According to an article on Home Guide Remodeling Costs, it's recommended to budget a maximum of 15-20% of the value of the home for a kitchen remodel. So if the home is worth $250,000, the budget should be between $37,000 and $50,000 for a kitchen remodel, putting it in the category of a minor remodel. If the home is worth $500,000, the budget should be between $75,000 to $100,000, putting it in the category of a mid-range major kitchen remodel.
Just be sure, when thinking about a kitchen remodel, all angles are looked at – the financial costs and impact on daily life will be significant, so make sure to think things through, work with trusted vendors and designers, and invest in quality. And most importantly, ask about the KCMA Quality Seal and the KCMA ESP Seal on the cabinets to ensure durable, long-lasting cabinets from an organization that cares about the environment.