Establishing and promoting standards for the kitchen cabinet industry
Advocacy
Promote the North American cabinet industry business growth by representing members' interests through policy decision-making in legislative and regulatory processes.
Quality
Bringing together members and other key stakeholders to enhance and promote the development and adoption of kitchen cabinet standards.
Leadership
Provide members opportunities to create meaningful relationships by providing management tools and educational opportunities for cabinet industry businesses and relationship development.
Image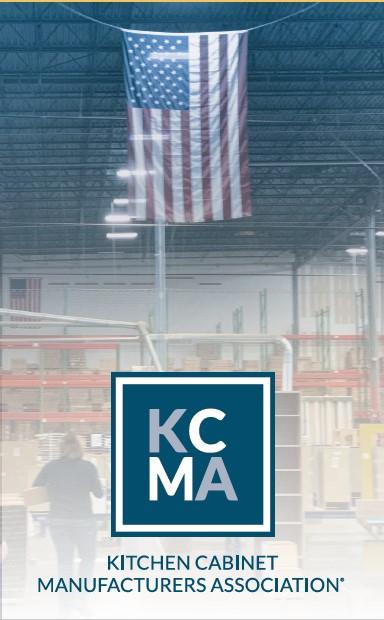 The Kitchen Cabinet Manufacturers Association (KCMA) is a non-profit organization founded in 1955 to represent companies who manufacture cabinets, bath cabinets, or other residential cabinets and key kitchen and bath industry suppliers.
With a membership of almost 300 companies throughout North America, KCMA works to advance the cabinet industry through advocacy, setting cabinet quality standards, sponsoring kitchen and bath cabinet-related research and providing the cabinet industry with management tools and educational programs to grow their business.
Who We Are
The only industry-specific source establishing benchmarks that set the standards and opportunities for your continued success. KCMA offers the industry's primary quality certification programs, the nationally recognized KCMA A161.1 program, and the Environmental Stewardship Program (ESP).
A key advocate for cabinet manufacturers. KCMA represents all members, large and small, of the cabinet manufacturing industry to legislators and regulating bodies by evaluating the impact of various public policy and trade issues on their business.
A partner for other associations and public interest groups who seek to advance the concerns of the industry, like The National Association of Manufacturers, The Composite Panel Association, The American Chemistry Council, The American Wood Council, The American Forest & Paper Association, American Home Furnishings Alliance, and more.
A source of regular reports focused on cabinet manufacturing and the cabinet business in general, and the sponsors of primary research for the kitchen and bath cabinet industry.
A peer-based educational community. Members have exclusive access to learning opportunities specific to the cabinet industry and cabinet manufacturing. KCMA's Management Conferences and Annual Convention provide valuable networking and educational opportunities through social events, speaker presentations, exhibitions and plant tours giving members access to the business operations of their peers.